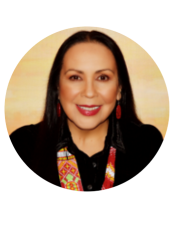 Dawn Jackson
Native Community Elected Commissioner
Saginaw Chippewa
Throughout her career within the entertainment industry, Dawn has served as a liaison to the Native American community.  She is an enrolled member of the Saginaw Chippewa Indian Tribe of Michigan.  She has served as a community elected Los Angeles City/County Native American Indian Commissioner and Self-Governance Board Member since 1994.
As a Commissioner, she has served in a variety of capacities including press liaison for a historic White House Urban Policy Initiative, art curator and was part of the team that successfully lead the call for Los Angeles to ban Columbus Day and establish Indigenous People's Day.
Dawn joined The Walt Disney Company (TWDC) in 1993 working in product design, brand marketing and creative development. In 2005 she became Executive Director of the American Indian National Center for TV & Film at ABC/Disney Prospect Studios. For over twenty-eight years Dawn has continued to work with business units throughout TWDC as a strategic cultural advisor.
As an independent film producer, Ms. Jackson has a produced three PBS documentaries, including MANKILLER (2017). She served as co-curator of Through Indian Eyes: 100 years of Native Cinema in association with the UCLA School of Film & Television.  She is a board member of the American Indian Scholarship Fund of Southern California, and a member of the Producer's Guild of America.
Last modified: October 4, 2022